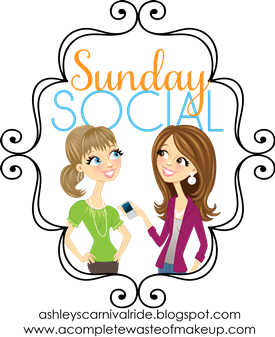 Hello blog world. Sorry I've been MIA this week. It's just been one of those week's where I can't seem to get motivated to blog...
It's been a busy weekend at our house, so today post will be quick. I'm linking up with the Sunday Social.
5 songs you'll listen to the rest of your life:
1. 100 Proof - Kellie Pickler
2. Everything - Lifehouse
3. Don't Stop Believing - Journey
4. Sweet Home Alabama - Lynard Skynard
5. Iris - Goo Goo Dolls
5 things on your bucket list:
1. Visit all 7 continents - I've only made it to 2 so far
2. Visit all 50 states - I'm only at 27-ish
3. Figure out where I want to live
4. Buy a home
5. (maybe) have children
5 celebs you'd love to hang out with for a day:
2. Brian Williams
3. Carrie Underwood
4. Jennifer Lawrence
5. Will Ferrell
5 things you always carry on your purse:
1. Hand Sanitizer
2. Chapstick (usually various types)
3. Bobby pins/hair ties
4. Kleenex
5. my Wallet
Note: not really my purse
5 books on your reading list:
1. Anna Karenina
2. A Small Furry Prayer
3. The Memory Keepers Daughter
4. 3 Cups of Tea
5. Girl with the Dragon Tattoo Trilogy (I've tried a few times and can't get into them - but I'm determined!!)
Share the last 5 photos on your phone
I found these t-rex wristbands while doing a deep clean of our apartment (aka - unpacking boxes that had been sitting since we moved in in 2010) One of my friends had these made back in 2008/2009 and they were 'all the rage' amongst my friends back then. We literally all wore them around -sort of like a stupid fashion statement! lol!
Nick, testing out a chair while we were shopping at Restoration Hardware...
Popcorn Shrimp at Stella's Fish Cafe - YUM!!!
My drink at Stella's
A dress I'm trying to sell on EBAY
I hope you all have a great Sunday!! We've got another busy day ahead of us, but check back tomorrow for my weekend update!!